BASIC INFO
Using our own original high anti-dust sensor technology, the machine works accurately with good stability in heavy dust conditions.

Feeding evenly with quiver, special patent filling part protects materials from harm.

No bottle under the filling hopper, no materiel in the supply hopper, or the photoelectric sensor box is abnormal, the machine makes alarm.

The special filling hopper avoids the materials jam, small mouth bottle can quickly bottling. (Available as an option)

You can choose the advanced device of getting rid of powder and the device of getting rid of static electricity. (Available as an option)

Sound and light alarm. (Available as an option)

Detection options include: lack of products in the supply hopper, damaged tablet, weighing systems online. (Available as an option)

Fully compliant to GMP regulations.

Main Technical Data
Applicable: 00-5#capsules,soft gels φ5.5-22normal tablets, special shape tablets, coating tablets φ5.5-20pills and other solid granules

Capacity: 10~40 BPM

Working range: Adjustable from 2-9999 per bottle

Power supply: 220V/50Hz 0.7kw

Air supply: 0.6Mpa, 10-18l/min

Size: 1400*1300*1650mm

Weight: 350kg

Remarks: Capacity is subject to the type and size of the bottle and tablet, as well as the quantity filled per bottle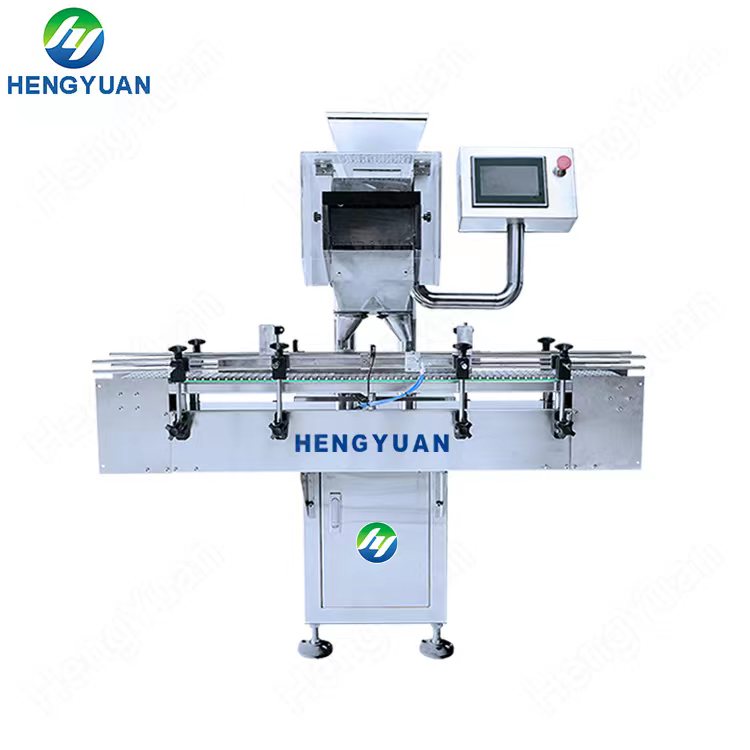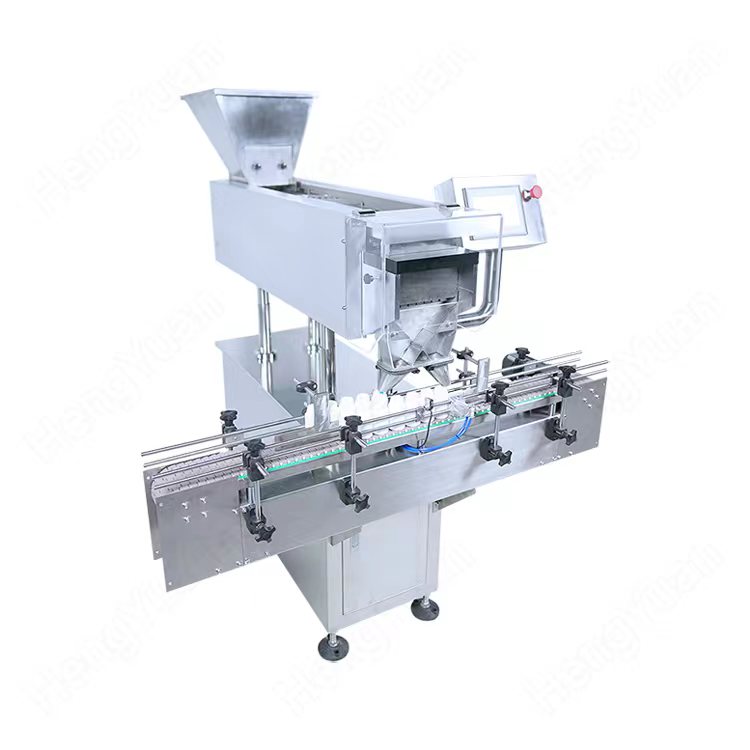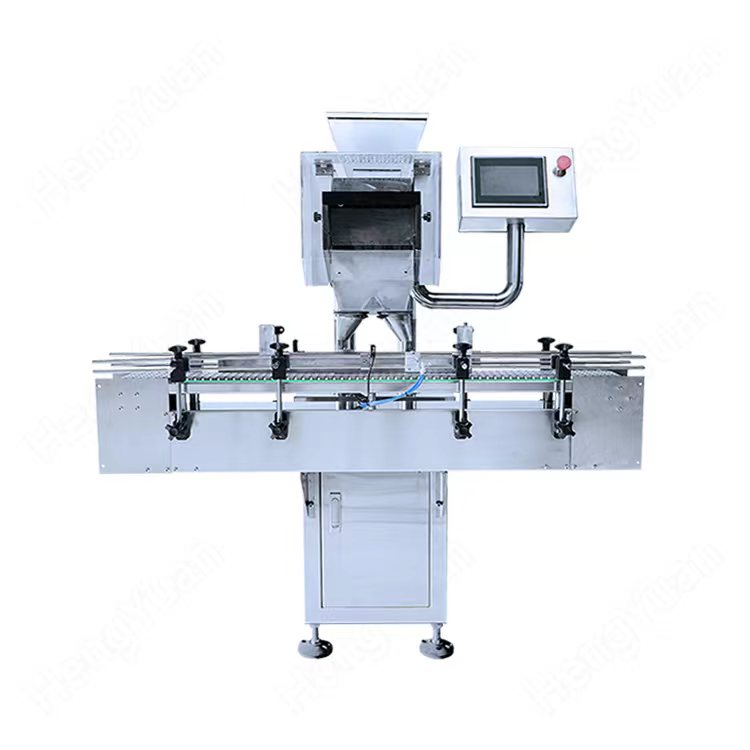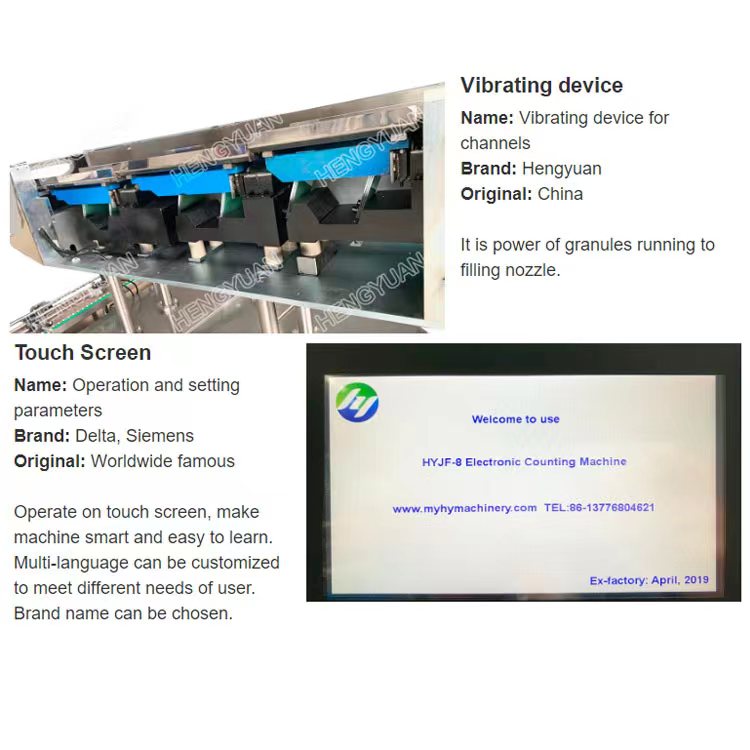 Automatic Electronic Counting Machine
HYJF-8-2
is suitable for below samples
Automatic Electronic Counting filling machine is mainly used for bottle packing of tablets (including abnormal tablets), capsules, gels (including transparent gels and opaque gels) pills and similar solid granules.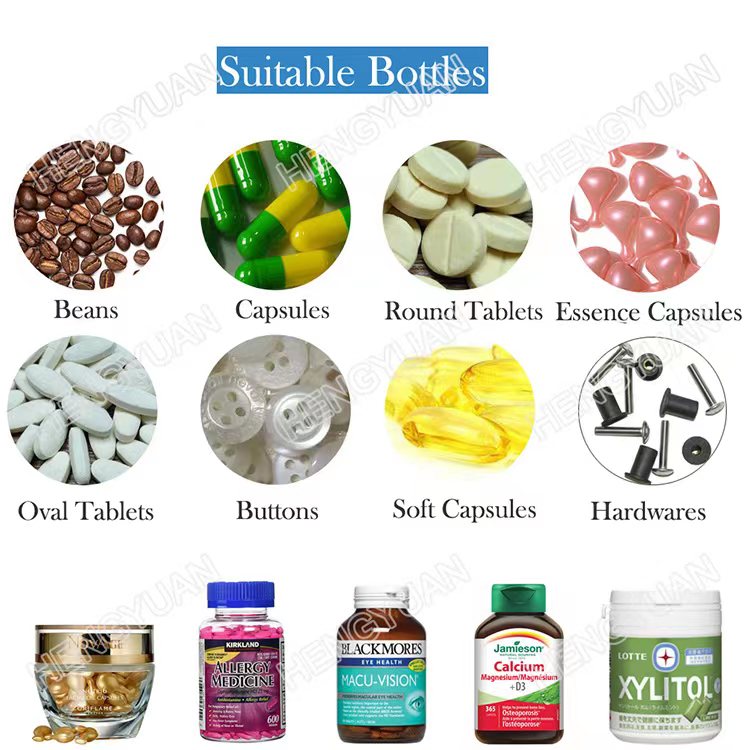 ⏩ Contact: Linda
📩 Email: sales@myhymachinery.com

📞 Mobile phone/WhatsApp/WeChat: +8613776804621
⏩ Contact: Julie
📩 Email: julie@myhymachinery.com

📞 Mobile phone/WhatsApp/WeChat: +8613372195890

⏩ Contact: Ivy
📩 Email: ivy@myhymachinery.com

📞 Mobile phone/WhatsApp/WeChat: +8618961262300
Skype: hymachinery01@hotmail.com